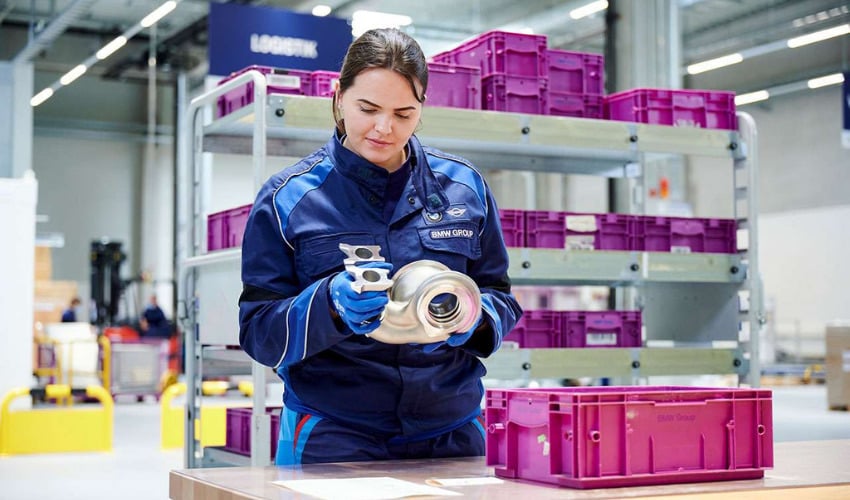 In the automotive industry, OEMs have historically mostly used additive manufacturing for rapid prototyping. In more recent years however, advances in AM have slowly been transforming the ways in which end-use parts are designed, manufactured and distributed. Deloitte's 3D opportunity in the automotive industry study explains that in the current standard AM path, companies do not seek radical alterations in either supply chains or products. AM is adopted to create design iterations, to enhance quality through cost-effective prototyping, and to create specific tooling parts. Nevertheless, other AM paths in automotive exist, which transform products and supply chains more radically. This is what we will explore in the following overview of additive's impact in the automotive industry. In fact, SmarTech Analysis' report revealed that by 2029, automotive 3D printing will have generated $9 billion in revenue from the production of end-use parts alone, compared to $1.39 billion in 2019. So, where is AM in this sector headed?
Pre-production benefits
Accelerating the product design phase during new product development is key in any industry. Thankfully, 3D printing can replace expensive and long lead-time CNC production in this phase. More precisely, it enables designers to cost-effectively go through several iterations before deciding on the final product. The process is as follows: once designers have identified a user need and have generated ideas to meet that need, they develop a prototype. The next stage is to test this prototype in order to improve its design. This iterative process is also what we call rapid prototyping.
Volkswagen, for example, has been working with 3D printing technologies for the past 25 years. And just last year it invested in two additional Stratasys 3D printers. Peter Bartels, head of Volkswagen's pre-series centre commented that these investments represent "additional capabilities that strengthen 3D printing operations and allow to further optimize the design process." Additionally, tooling (grips, jigs, and fixtures) design can also be optimized and produced at a lower cost. Tooling plays an important role on the assembly line to produce repeatable and high-quality products. These applications are what Deloitte calls the current standard AM path in automotive.
The growing segment of end-use parts
Additionally, several OEMs have been interested in 3D printing to develop end-use parts, moving beyond rapid prototyping applications. There are many reasons for this, which can be summed up as a quest for product innovation in a competitive sector like automotive. One way to achieve product innovation is to dramatically increase the performance of a part, by reducing its weight for example. Product innovation through customization is also of great interest, particularly for luxury car manufacturers.
Indeed, an advantage of using AM is the potential production of components with lower weight, to create vehicles that consume less fuel. The role of industrial design software is thus central. Over the years, CAD and CAM solutions have drastically improved, especially for additive fabrication. They often include generative design, topology optimization, and lattice generation tools, which reduce the overall weight of parts whilst maintaining or improving their function. Lighter parts are often more complex. But since AM is not limited in terms of design freedom, unlike conventional methods, complexity doesn't constitute a challenge. It should be noted that part simplification is also possible thanks to AM, through consolidation of multiple parts into a single design. Therefore, assembly complexity could be reduced in the long-term if a high-volume of these parts needed to be produced.
AM also means greater personalization possibilities. In fact, some luxury car makers already use AM to deliver designs specialized to customer requirements. Traditional manufacturing methods such as CNC or injection molding wouldn't be able to deliver unique parts under competitive lead times. The cost of producing such parts would also be considerably different. Moreover, personalization can also be used to deliver spare parts, to repair an older car model for example.
One example of an end-use case application is Ford's 3D printed aluminium inlet manifold (part of the engine that supplies the fuel/air mixture to the cylinders), which was installed in a 1977 Hoonitruck. According to the manufacturer, this replacement part was the largest automotive 3D printed part ever produced. It took five days to print using the Concept Laser X LINE 2000R from GE Additive. Historically, Ford is one of the companies that has conducted the most research in AM industrialisation. In 1986, it had already invested in an SLA 3 (the first 3D printer ever made). The company stated in an official press release: "It didn't take long to see that the invention could be used to create new prototype part designs faster and more efficiently than ever." Today, the company has printed over 500,000 parts and "saved billions of dollars and millions of hours of work."  In its Advanced Manufacturing Centre in Detroit, it has invested in FDM, SLS and sand 3D printers.
Another example is BMW Group, which in 2020, opened the Additive Manufacturing Campus, not far from Munich. The campus cost around €15 million to build. Today, it operates around 50 industrial systems for processing metal and plastics. Production of prototypes, series parts, R&D, and associate training in toolless manufacturing all take place at the site. This investment demonstrates BMW Group's trust in 3D printing technologies. Just like other car manufacturers, the group initially invested in additive manufacturing in 1991 to make prototypes for concept cars. Later, small series of parts were produced for DTM race cars, the Rolls-Royce Phantom, the BMW i8 Roadster and the MINI, among others. In a year, 300,000 parts were 3D printed. Board Member, Milan Nedeljković commented: "Additive manufacturing is already an integral part of our worldwide production system today, and an established part of our digitalisation strategy. In the future, new technologies of this kind will make production even faster and allow us to benefit even more fully from the potential of toolless manufacturing."
The supply chain is changing
Deloitte's study also points out that the changes mentioned above will ultimately impact supply chains. Today, OEMs outsource most of their parts; the report explains: "As OEMs adopt the product evolution route, the eventual outcome will be twofold: smaller supply chains and OEMs' greater value contribution. An important effect of AM may be shortening and simplifying the enormous automotive supply chains that currently operate. OEMs work with thousands of suppliers to source the different components in cars [and] are constantly seeking ways to trim their supply chains." Therefore, companies can take advantage of AM to transform supply chains, by producing on-site and reducing part inventory.
Material Development
Over the years, improvements in materials technology have enabled more materials to be qualified for the AM process. Automotive parts are typically manufactured from high-performance polymers, carbon-fiber-reinforced thermoplastics, and metals. OEMs have actively sought out to incorporate lighter materials such as carbon fiber and aluminium into the vehicle body. Therefore, materials tailored for additive manufacturing can allow a greater number of properties to be embedded into final products, but are also critical in the development of functional prototypes.
For example, BASF Forward AM is working alongside its clients and hardware manufacturers to develop innovative products through the adoption of additive manufacturing. Forward AM worked with Daimler to design a new engine mount to reduce transmission of vibrations in order to maximize passenger comfort. Engine mounts have mostly been made of injection-molded, fiber-reinforced polymers in the last decade. However, the need for shorter development cycles and lower costs has put this traditional design process and materials under pressure. BASF Forward AM eliminated the very costly requirement for new molds with every design modification by inviting AM technologies in the process. The challenge was the following: to meet the strict thermal and mechanical performance requirements under test conditions. They needed a very rigid and thermally stable material. The perfect match was Ultrasint PA6 MF (a mineral-filled polyamide 6 that outperforms PA11 and PA12), which produced test-ready prototypes in under 48 hours (instead of several weeks with injection molding). Although the 3D printed part's design looked different, it could be used like the original as a fully functional prototype in the development stage when no injection molding part was available. Finding the right material replacement to reproduce part performance of the injection molded part was thus key.
What is the future of automotive AM applications?
In recent years, automakers have had to explore new business models to achieve growth. In Jabil's Automotive Industry Trends report, you can read that 71% of automotive companies have a go-to-market timeline under 2 years. Many look towards new technologies, including additive manufacturing, to maintain short development cycles and to achieve lower costs. The electrification of vehicles is also of interest, with about 50% of automotive manufacturers aiming to be market leaders in fully electric vehicles (EV) in the near future. As the industry moves away from internal combustion engines, 3D printing rises as a solution that can speed up development of lighter parts for electric vehicles. Indeed, lightweighting is critical for electric vehicles because it directly impacts battery time.
In the EV sector, you might have heard of Olli, a 3D printed autonomous electric minibus designed by Local Motors in 2016. The manufacturer claims that about 80% of parts were 3D printed, which reduced overall production time by 90%. The speed is limited to 40km/h, making Olli suitable for urban city centres, university campuses, and hospitals. Before that, Local Motors had introduced the Strati roadster, an electric two-seater featuring 75% 3D printed parts.
In addition, as connected vehicles rise in demand, the need for electronic devices, like sensors and antennae within the vehicle, is increasing too. With this increase comes a greater need for designing and producing smaller, more complex electronics. Based on micro- and nano-scale 3D printing technologies, it is possible to design more complex electronic components in-house that can be directly embedded into the vehicle. Electronic 3D printing can reduce the costs and development time for creating these devices.
As previously mentioned, customization offers many possibilities. For example, MINI customers currently have the opportunity to personalize their vehicles by designing the passenger-side sideband in the cockpit and the side inserts. Across its various projects, BMW Group has 3D printed more than 140,000 components. Christian Reinhardt, part of BASF Forward AM since 2019, commented: "In my opinion, one of the most exciting and important applications was the MINI "Yours Customised" project. This project showed that it is possible to have a 3D printed part in a real series car, and that customer specific individualization could add value which had never been seen before. I am convinced this project will become a pioneer for a lot of applications to come."
More globally, almost every player in the market is investing in 3D printing technologies to move into production of more complex, high-performance parts. General Motors Director of Additive Design and Manufacturing Kevin Quinn explains: "On average, there are 30,000 parts in every vehicle. We're not looking to print all 30,000 pieces. Instead, we're being very realistic. We're focused on production opportunities where we can provide a business value for GM and for the customer."
Therefore, beyond enhancing overall manufacturing capabilities and reducing costs, which has been the main application in the sector, OEMs are starting to take advantage of AM to create new products and enable supply chain transformation.