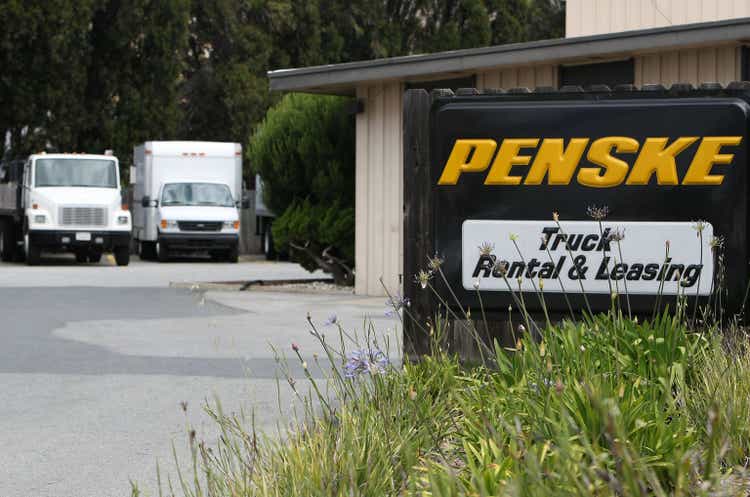 It can be difficult to invest in an environment with as much uncertainty as what we are experiencing today. The fact of the matter is that the market is scared about what the future holds. Inflation and supply chain issues, combined with rising interest rates aimed at stopping inflation, have ultimately sent investors running for the hills. But this doesn't mean that every opportunity has been a bad one. There have been some companies that have performed exceptionally well in recent months. A great example can be seen by looking at automotive retailer and part-owner of Penske Transportation Solutions, Penske Automotive Group (NYSE:PAG). Driven by strong performance on both its top and bottom lines, shares of the company have risen even as the market has declined. Add on top of this a share buyback program initiated by management and it's clear the company is doing well for itself. Although shares of the company might be considered pricey compared to similar firms, they are still cheap on an absolute basis. So because of all of this, I have decided to retain my 'buy' rating on the firm for now.
Penske Automotive's business is going good
The last time I wrote an article about Penske Automotive Group was in March of this year. This followed a nice run-up in price that shares experienced at a time when the broader market was down. At that time, I said that the company still represented a compelling risk-to-reward prospect. My overall conclusion was that opportunity still existed for investors who had bought in, as well as for investors who had yet to buy the stock. At the end of the day, my findings led me to rate the business a 'buy', because I felt as though it would likely outperform the market moving forward. Fast forward to today, and my call so far has been correct. Even while the S&P 500 is down by 14.4%, shares of Penske Automotive Group have risen by 4.4%.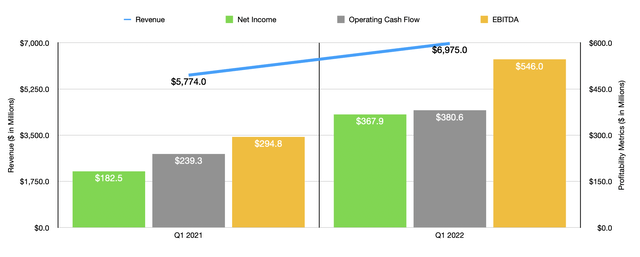 The key driver behind this upside seems to have been the fundamental performance the company generated in the latest quarter. According to management, revenue in that quarter came in at $6.98 billion. This represents an increase of 20.8% over the $5.77 billion the company reported the same time one year earlier. Surprisingly, this rise in sales was driven by somewhat mixed data. For instance, new retail unit sales for the company actually declined year over year to the tune of 9.7%. Same-store new retail unit sales dropped an even larger 13%. However, the price the company charged per unit rose by 11.8% year over year, reflective of the pass-through of higher costs onto its customers.
Meanwhile, used retail unit sales increased by 12.9% year over year, all while the average revenue per unit jumped by 18.7%. This was a significant contributor to the company's upside in the latest quarter compared to the same time last year. Of course, the company also benefited from strength in other categories. Revenue under the finance and insurance activities of the company rose by 28.7%, while service and parts revenue rose by 16.5%. The company also saw new retail unit sales associated with its commercial trucks rise by 78.1%, with a significant portion of that attributable to net dealership acquisitions. However, pricing per unit also rose by 7%. The only real weakness came under the used commercial truck category. Total unit sales dropped by 0.5%, but that was more than offset by used retail sales revenue per unit skyrocketing by 97.8%.
This increase in sales brought with it a significant improvement in profitability. This should not be a surprise because any business that is low margin in nature and that is asset-intensive can see significant improvements on its bottom line from small changes in margin. Net income in the latest quarter came in at $367.9 million. That represents an increase of 101.6% over the $182.5 million reported one year earlier. Other profitability metrics were also promising. Operating cash flow rose by 59% year over year, climbing from $239.3 million to $380.6 million. And EBITDA for the company skyrocketed 85.2% from $294.8 million to $546 million.
In addition to generating strong performance, the company has also made some other interesting moves. In May of this year, for instance, management announced that they were increasing their dividend by 6.4%, or $0.03 per share, to $0.50 per share. Even bigger than this, though, was the company's decision to increase its share buyback authorization back up to $250 million. At the time, the company's plan had just $46.3 million left over. This followed the acquisition of 1.9 million shares for a total of $184.1 million that the company had recently completed. Along the way, the company has also been more than happy to make other acquisitions. One of its most recent, which was announced in March, added $80 million in annualized revenue to the company stop line. That brought total acquired annual revenue to the company through that date of $745 million.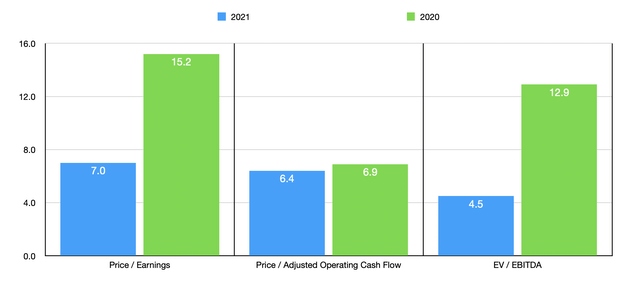 We don't really know what the rest of the current fiscal year will look like. Even ignoring how strong the current fiscal year is looking, shares of the business look cheap on an absolute basis. The company is currently trading at a price-to-earnings multiple of 7. That compares favorably to the 15.2 reading that we would get if we used 2020 figures. The price to operating cash flow multiple, meanwhile, should come out to 6.4. That's down from the 6.9 figure that we get if we rely on 2020 results. And the EV to EBITDA multiple should decline from 12.9 using 2020 figures to 4.5 this year. As part of my analysis, I did compare the company to five similar firms. On a price-to-earnings basis, these companies ranged from a low of 4.5 to a high of 6.6. And using the price to operating cash flow approach, the range was from 2.3 to 6.2. In both cases, Penske Automotive Group was the most expensive of the group. Using the EV to EBITDA approach, meanwhile, we get a range of between 4.8 and 6.8. In this case, our prospect was actually the cheapest.
| | | | |
| --- | --- | --- | --- |
| Company | Price / Earnings | Price / Operating Cash Flow | EV / EBITDA |
| Penske Automotive Group | 7.0 | 6.4 | 4.5 |
| AutoNation (AN) | 5.2 | 4.5 | 4.8 |
| Lithia Motors (LAD) | 6.6 | 6.2 | 6.4 |
| Sonic Automotive (SAH) | 4.6 | 5.1 | 6.3 |
| Asbury Automotive Group (ABG) | 5.1 | 2.5 | 6.8 |
| Group 1 Automotive (GPI) | 4.5 | 2.3 | 5.0 |
Takeaway
The data provided right now definitely, in my opinion, works encouraging for shareholders. The company has performed well compared to the broader market and its fundamental condition is robust. Even if we assume that recent financial results eventually revert back to what the company experienced in 2021, upside for investors should be material. Of course, in two out of three ways, shares of the business are expensive relative to similar players. So in all likelihood, there are better opportunities that can be had. But for those who like this particular firm, I would still say that this is a valid 'buy' prospect at this time.